Fonts
Ereaders allow users to change the font to accommodate reading preferences. Although it's important to let the user choose the main font, there are some cases where the author might want to use a specific font.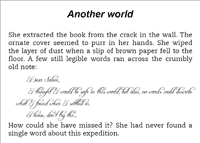 Here is an example. As it is supposed to be written by hand, the author chose to use a handwritten font for the letter.
In this case, the font can be embedded in the ebook by using the "Embed fonts" option button in Alkinea.
All the fonts used in the book that are different from "Arial" and "Times New Roman" will be embedded.
Carefully choose which fonts are used, to avoid embedding too many fonts.
Legal note: usually embedding a font that is not free is illegal, even when you have purchased the font. When you purchase a font, you get the right to display texts using this font as an image, but you can't embed the font. Your best choice in this case is to only use free fonts, or open fonts. You can find free fonts at: www.fontsquirrel.com , www.openfontlibrary.org or www.theleagueofmoveabletype.com
Check licenses for each font. For instance OFL fonts can be embeded.
► Images